In each and every family there are recipes that have stood the test of time and they are made regularly because they please everyone. These Gluten Free Lemon and Yoghurt Muffins are my family's favourite recipe! (...and yes we do make them often :-))
Regardless of them being made with gluten-free flour or with wheat flour, these muffins are fluffy, tangy, and delicious!
The best part about these muffins is that they are moist...not dry and heavy, but fluffy with a delicious lemon tang and the smoothness of Greek yoghurt.
This recipe is really easy...actually too easy considering how delicious and moist they taste!
To sound a bit corny these Lemon and Yoghurt Muffins are just what you need when you need a little bit of sunshine in your day. (yep...told you it would be corny 😉)
These muffins are so popular with my family that we have them for school lunches, we heat them up with ice cream for dessert and we, well, we just devour them! 🙂
Maybe the best bit is that they have a muffin top (yes...just like those 'wheat flour' muffins..nearly 😉).
I am sure that they are not meant to have a 'special top' but if you are gluten-free then it was probably a long time ago that you were able to peel off a muffin top and indulge.
Well...The tops on these muffins are just perfect!
Recipe for Gluten Free Lemon and Yoghurt Muffins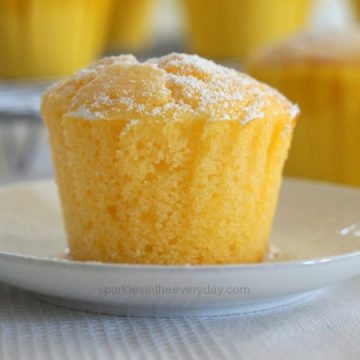 Fluffy Gluten-Free Lemon and Yoghurt Muffins
Fluffy, moist gluten free lemon muffins that are perfectly dusted with icing sugar or served warm with cream and berries!
Ingredients
125

g

butter

softened

1

cup

of caster sugar

I use a little less about ¾ cup

3

large eggs

1

tablespoon

of lemon juice

1½

cups

SR flour

I use Organ SR gluten free flour

¼

teaspoon

of baking powder

½

cup

of Greek-style yoghurt

Icing sugar for serving
Instructions
Preheat oven to 180°C or 350F

Line muffin tin with pretty muffin wrappers

Beat butter and sugar in a bowl until light and creamy

Beat in eggs one at a time ...beating well after each addition

Mix in the lemon juice then flour with the baking powder. The best way to do this is a little of the yoghurt and then a little of the flour and repeat till it is all mixed in. This stops the mixture from getting too thick).

Spoon into muffin wrappers and bake in the oven for about 20 mins or until a skewer is inserted into the centre and it comes out clean.

Cool in the pan and remove onto wire rack.

Dust with icing sugar and serve with berries and cream....
I have often served these lemon and yoghurt muffins at dinner parties...warm from the oven topped with whipped cream and covered with a range of different berries. They look gorgeous, tastes delicious and best of all they are an easy dessert to make!
...and being gluten-free, they even look like a muffin...standing tall and ready to be eaten.
Muffins that make you smile! 🙂
You might also like....